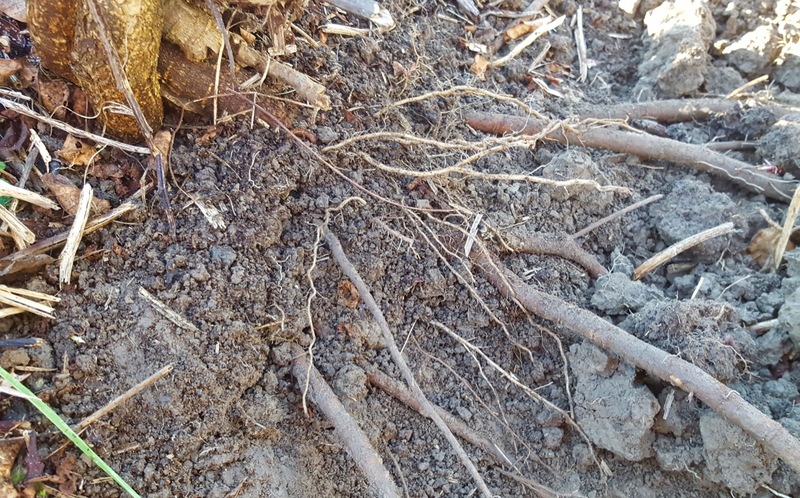 Growing plants is an investment in time and growing licorice to the point of being able to use it, takes a long time - 3 to 5 years in fact - from seed to harvesting the licorice root. Many Europeans have shared with me stories of eating licorice sticks as children, even using the sticks to clean their teeth! I don't think that we have had this tradition at all in New Zealand as I had never come across licorice root (as opposed to licorice allsorts!) until I did my apprenticeship in Herbal Medicine with Valmai. I was simply amazed at the delicious, sweet, aniseedy taste that you could get from chewing on a piece of dried stick.
I have been growing my licorice root for three years now and have anxiously been awaiting the time that I would be able to harvest such deliciousness for myself. So, last week I headed off into the garden and started digging around the licorice plant, looking for the rhizomes. The licorice plant has a very big tap root that heads downwards but it also sends out lots of rhizomes out the side of the plant, and these are what I was looking for. I was digging for a while and starting to get disappointed when I found a small rhizome and then a bit deeper and suddenly I had hit gold - or some rather brown looking roots. I was now able to harvest my own home grown licorice root.
I took the licorice roots inside and cut them into smaller bits and then put them into the de-hydrator to dry, and then into a high speed blended to break up the fibrous roots and now I have a bit jar of licorice root to use in all my herbal teas.
Freshly Harvested Licorice Root Dried in the De-hydrator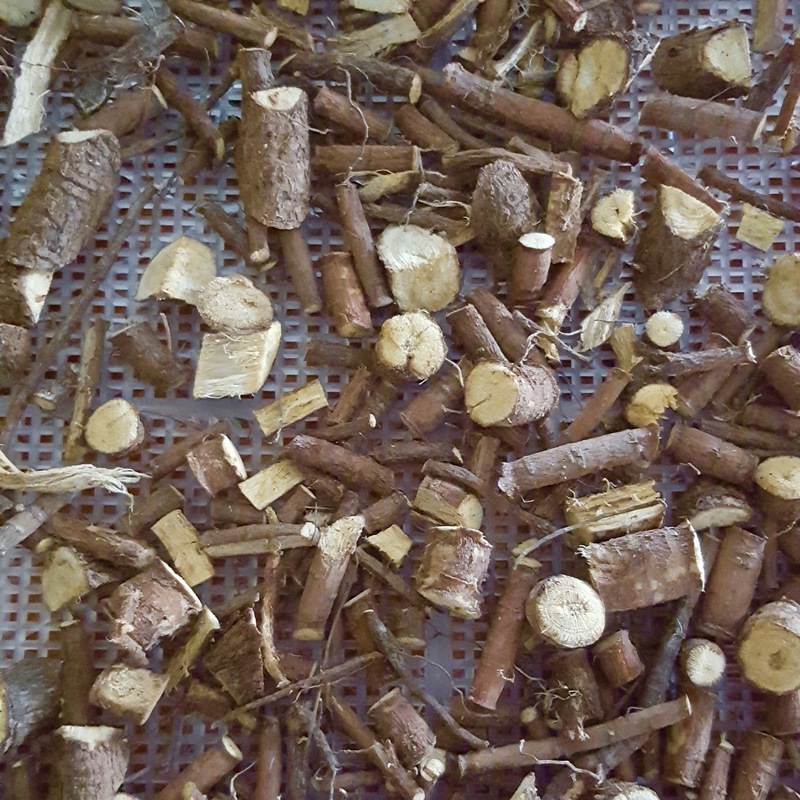 Licorice root is a great herb to use for winter respiratory complaints such as bronchitis and asthma as it soothes the respiratory tract as well as having expectorant properties. It is sweet tasting and soothing and can be used in herbal teas, decoctions, syrups, herbal milks and herbal powder blends. I have been having lots of fun experimenting with different dried herbs and spices with added licorice.
Last night I made a very yummy herbal tea - I shall call it Nettle Chai. Here is the approximate recipe for 1 pot of tea.

Nettle Chai Herbal Tea Recipe

1 tsp dried stinging nettle leaves

A good pinch of dried licorice root
A small piece of cinnamon stick

1 piece of star anise
1-2 cardamon pods