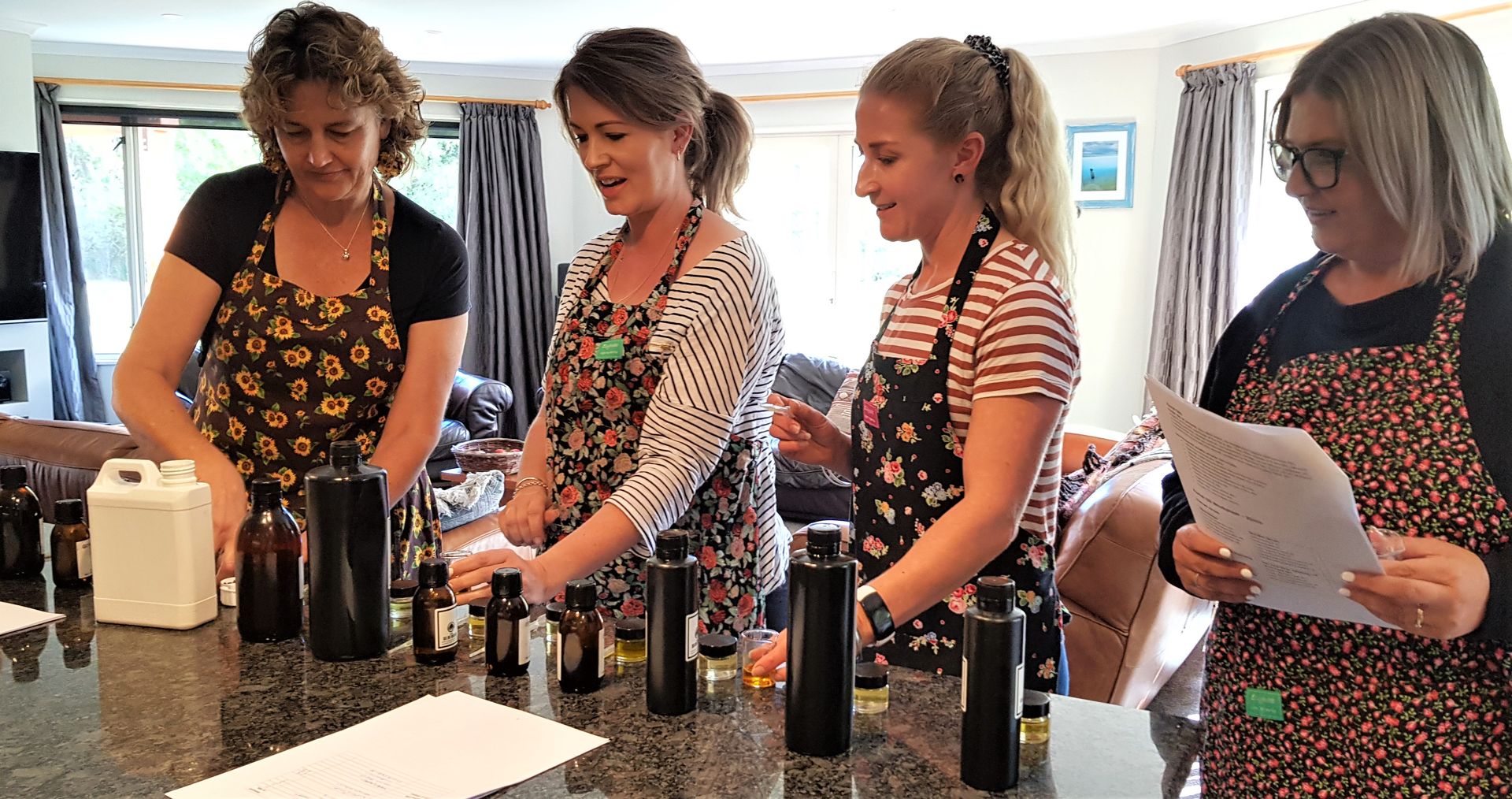 Firstly and most importantly:
Everybody's skin is different and reacts differently to oils. Actually, this might seem pretty obvious but it never fails to surprise me at the workshops how different the response is. We will be trying out an oil and someone will be expressing delight at how well the oil is being absorbed and how it is feeling, and the person next to them will be shaking their head and saying that the oil is still sitting on the skin not absorbed at all. An oil needs to absorb into your skin for it to give your skin any benefits - the most amazing oil in the world is not doing your skin any good if most of it is ending up on your pillow slip at night!
This is an extremely important thing to think about when buying that expensive serum with all those wonderfully exotic ingredients – it might not be the best combination of oils for you. I had feedback recently from one of my workshop participants, who said that the facial oil she created at the workshop was the only facial product that she had ever been able to use without getting a reaction from it and she had spent a fortune buying different products over the years.
I feel I have been in a very privileged position to witness so many women's experiences with different oils. When I started running this workshop fresh from completing my Botanical Skincare Diploma, I had been taught what were the "good" oils - the really special ones for skin. I must admit that my first workshops shocked me. Some of the "good oils" were simply not being absorbed into the womens' skin and some women were having to wipe off the oil because it was just sitting on their skin. I have since come to realise that probably very few people have done as much "research" as I have, on using different oils.
Secondly:
Oils can be used on all types of skin. When I first started using oils, I thought that they were so effective because my skin was very dry and aging. In fact, at the start (and now sometimes in the winter), I would find my skin seemed to just keep absorbing as much oil as I kept putting on it. From my workshop experience, I have now seen women with all sorts of skin make a facial oil that suited them perfectly. My 21 year old daughter who has very oily skin has been my latest convert. She had bought a face cream from Lush (at least they are natural – she said) and I took that as a challenge to create something that she could use. We created a facial oil using grapeseed oil, argan oil and some other oils and she is very happy with it. Well, actually, what she said was that her skin feels much the same as it did on the Lush cream, but that it doesn't get the awful dry feeling she used to get in the afternoons. So, I am taking it as a win!
Thirdly:
You can make sustainable choices when buying oils. There are so many different plant and seed oils to choose from, that you can easily make good buying decisions based on where and how the plants are grown and processed. We are starting to be able to get some really good, locally grown, cold pressed oils which makes me so happy. Hemp seed oil is readily available as well as NZ grown avocado, evening primrose, black currant seed and kiwi seed oils. Also, The Good Oil which is based in Ashburton is selling cold pressed sunflower and rapeseed oils - nothing makes me happier than to use an oil which is grown and processed less than 2 hours away.
You can find out more about my Botanical Skincare Workshop and other workshops on my website (https://tuahiwibotanicals.co.nz/workshops/)